Pearl Buying - Choosing & Caring for Pearls
Author: The Pearl Market.
Pearl buying can be daunting - the more you learn the more you realise you don't know! If you've read the other articles in this guide you'll understand the different types of pearl and the
qualities that determine their value
. If you're buying pearls as a gift, you'll find the most often asked questions and answers here.
Summary
there's no industry standard for grading pearls. One retailer's AAA may be another's AA or A.
quality factors when judging pearls are size, shape, lustre, nacre thickness, blemish, colour and matching along the strand.
for seawater pearls, a minimum nacre thickness of 0.3mm is vital to prevent chipping and flaking.
pearl prices rise sharply after a diameter of 7mm to 8mm.
pearls are a natural product, so expect some small imperfections.
naturally coloured pearls may have small variations in shade along the strand.
Necklace Lengths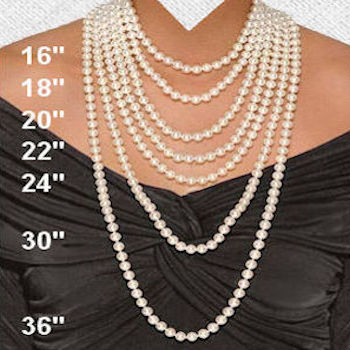 Sometimes called:
Choker:
14-16 inches
Standard:
16 inches
Princess:
17-19 inches
Matinee
: 20-24 inches
Opera:
28-36 inches
Rope:
36 inches and over
Popular Lengths
For necklaces, 18 inches is easily the most popular. This is the
total
length, including the clasp.
In everyday use bracelets get more of a battering. They shouldn't be too loose as they can snag and break. 7.5 inches suits most people. The clasp on a bracelet must be easy to fasten and unfasten as it's a one-handed operation.
Sizing a Bracelet
Whilst 7.5 inches is pretty standard, if you have (for example) a very slim wrist you might need a custom length. Here's a rough guide...
Take a piece of string and wrap it around your wrist where you want the bracelet to lie. The string should be just resting on the skin - neither tight nor slack. Measure the string and add an inch to allow for the radius of the pearls and the clasp. This will give you a length with a little bit of slack for ease of fastening.
Clasps & Fittings
Gold, gold-plated, rolled gold, gold-filled or gold vermeil? When you see pearl jewellery advertised with 'gold' clasps or fittings the
type
of gold should be specified - for example, 9 carat gold or gold-plated. It makes a
big
difference to the price and durability of the product.
This video explains all.
If you're buying for a lady with long fingernails or a touch of arthritis, pay attention to the
clasp
fitted to the necklace. Of the pearl necklace clasps commonly used, fishhook clasps are probably the most fiddly. Toggle clasps and magnetic clasps are the easiest to fasten - and the easiest to accidentally unfasten. Trigger and bolt ring clasps are a good compromise between ease-of-use and security.
Metal Allergies
Some people get a reaction to the traditional metals used in jewellery - especially earring fittings. You can find some advice
here
.
The 6 Main Criteria For Choosing A Pearl Necklace
Buying Pearls as A Gift
It's usually wise to go for the best
grade
of pearl you can afford - even if this means choosing a smaller pearl size. If you don't know what she'd prefer, you can't go too far wrong with traditional round white pearls.

A good necklace can be spoiled by a cheap presentation case or tacky lightweight clasp. Some overseas sellers ship products in 'luxury' cardboard jewellery boxes to save weight. Cardboard is cardboard!
Colours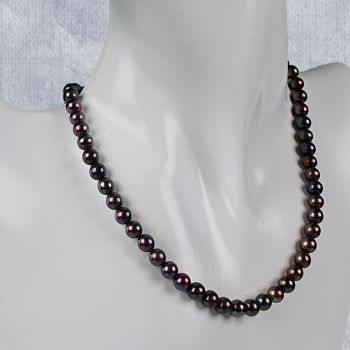 Classic white, ivory and cream are usually a safe bet. Other colours are a matter of skin tone and personal preference. If the colour of a dress or blouse suits, then that shade of pearl probably will too.
The Pearl Market's black pearl necklaces are made by mixing different shades of pearl, so every necklace -
like this one
- is unique.
Repair and Re-String

Traditionally, good quality necklaces and bracelets are strung on silk thread that stretches with time and use. If you wear your pearls a lot, they will need re-stringing periodically.
The Pearl Market provide
a re-stringing service
for worn or broken necklaces.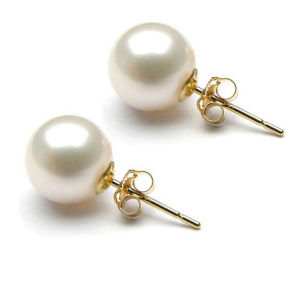 When removing stud earrings, try to get your fingers behind the earring cup rather than tugging on the pearl itself. If a stud does become detached from it's stem you can
find out how to repair it here
.
Caring For Pearls
Pearls are a soft gem with low resistance to heat and chemicals. Clean them with a dry or damp soft cloth or chamois. Never use detergent, bleach or chemicals unless you want to watch your pearls melt.

Don't try to remove dirt with a toothbrush or any abrasive material as these can scratch the pearl's surface. It's better to clean pearls regularly than allow a build up of dirt or make-up.

Put on pearls after applying make-up, perfume, deodorant or hairspray. Take off pearls before showering, bathing or swimming so you don't get the silk thread wet (it can stretch).

Keep your pearls in a soft pouch or bag away from other jewellery that scratches.

If pearls are kept in a box for a long time they'll dry out and 'yellow'.