Pearl Bargains and Special Offers
Fabulous Deals from The Hong Kong Jewellery Show
It's the premiere event for diamonds, gemstones and
pearls
. Pearl producers from around the world - China, Japan, Australia, French Polynesia (Tahiti), Vietnam, Indonesia, the Philippines and more - gather to sell their wares.
Day one is a real scrum as we all descend on our favourite suppliers and snap up their best pearls, but on the afternoon of the
last
day the exhausted sellers just want to go home
without
a sackful of stock. There are some great deals on loose pearls and pearl strands, so we buy what we can and bring them back to Wales to make into finished products.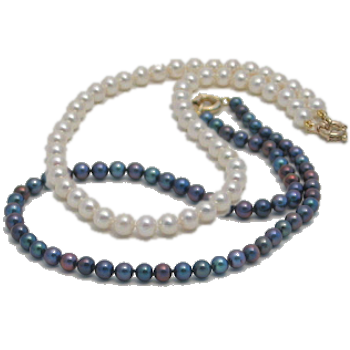 Whether you're out to dinner or shopping at Tesco's, these freshwater necklaces add a touch of glamour and sophistication to casual or formal wear. Featuring round/near-round pearls with thick nacre and good lustre, they're strung on silk thread (
not
nylon), hand-knotted between each pearl, and fitted with a sterling silver or 22ct gold vermeil clasp.
More deals...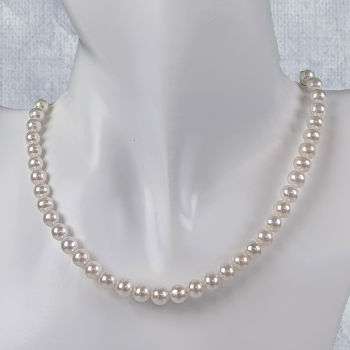 For All Ages & Occasions
Versatile 18-inch necklace with Grade AA, 6-7mm pearls. Strung on silk, fitted with a silver clasp and presented in a lined, leather-look, necklace case.
£125.00 Now £85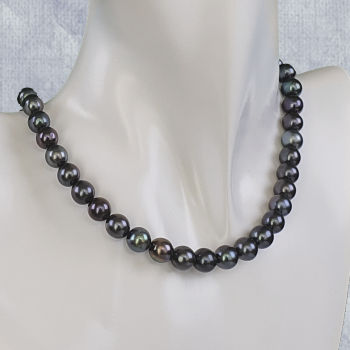 The Pirate's Choice
Grade AA, 18-inch necklace with 8-9mm black pearls. Strung on hand-knotted silk, fitted with a sterling silver clasp and presented in a leather-look case.
£185.00 Now £137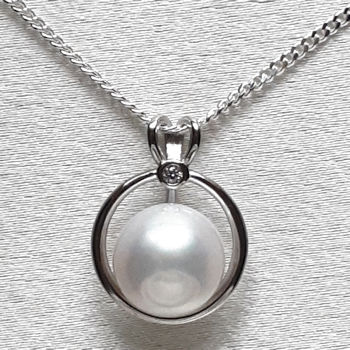 Circle Pendant
A top-quality 10mm pearl set in sterling silver and finished with a complimentary 18-inch sterling silver chain. Presented in a leather-look, pendant case.
£98.00 Now £79